With the right combination of gas heaters and electric fans, this greenhouse has been turned into a tropical paradise for butterflies to breed.
The Customer
Tim Bales, a 48-year-old horticulturist in Shropshire, has been breeding butterflies as a hobby since the age of 12. As a full-time horticulturist, having trained at Pershore College of Horticulture in Worcestershire, Tim has always been an outdoorsy person who enjoys the beauty of the natural world.
Wherever possible, Tim has always provided the right habitat in his garden for British butterflies. With his horticultural expertise, he can source and grow the exact foodplants required to breed his butterflies.
However, according to Tim, British butterflies don't have more than two generations a year. On the other hand, tropical butterflies breed continuously all year round, providing they have the right plants, humidity, light levels, and temperature conditions.
To allow both plants and butterflies to thrive, and using a combination of Hotbox greenhouse heaters, Tim has turned his current greenhouse into the perfect breeding environment.


Tim's New Greenhouse Project
Over the years, Tim's butterfly setups have increased in size and complexity, his current project being no exception. When he met his partner Sharon 6 years ago, his greenhouse was 10ft long. When they moved house together, they found a garden big enough for a greenhouse that was 35ft x 10ft!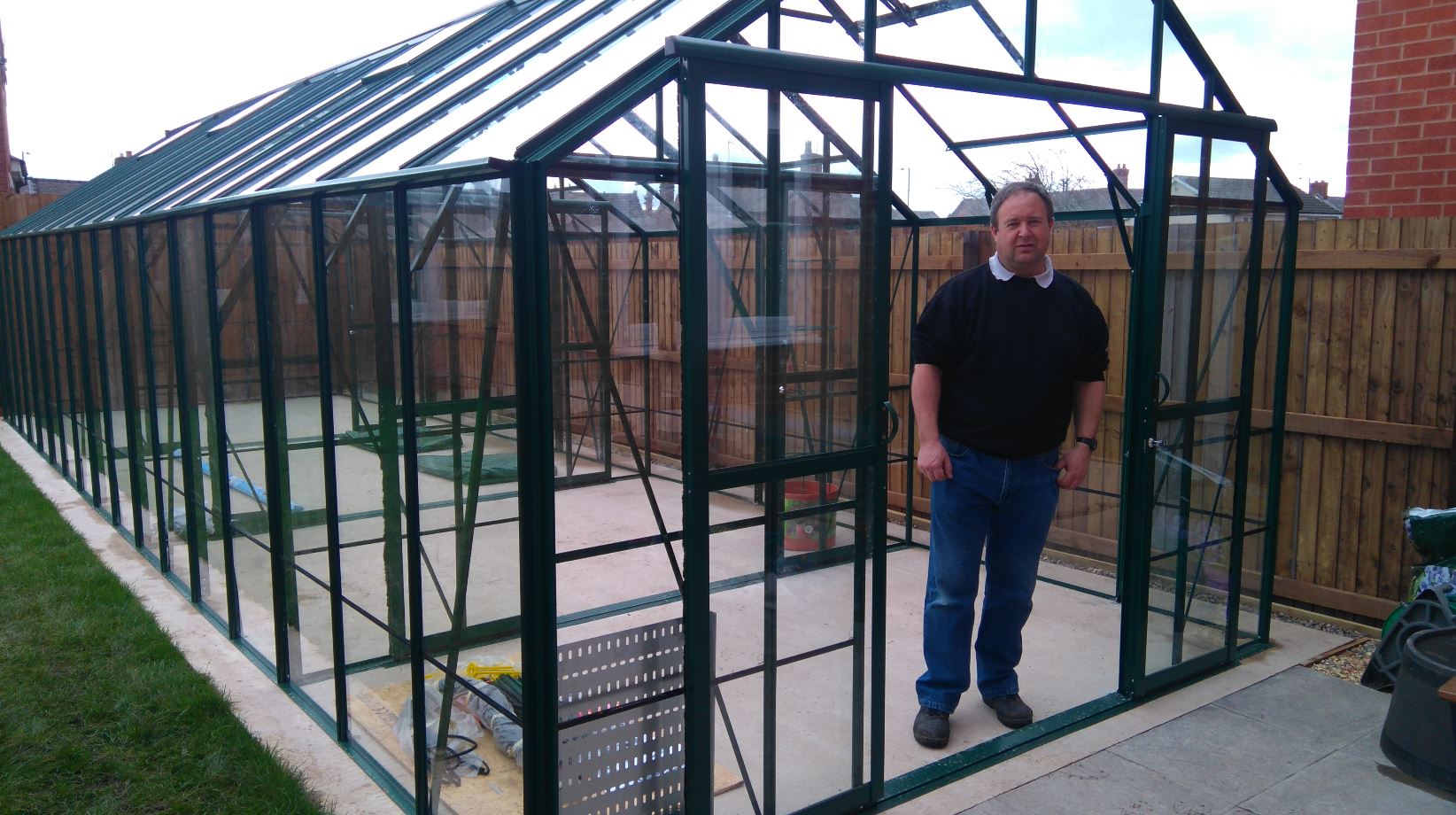 On a modern housing estate just outside Oswestry, Shropshire, Tim started his next, more ambitious project, with much more that could go wrong.
The various butterflies he wanted to breed, originating in the forests of South and Central America, required different levels of humidity, light and temperature. (Some were also cannibalistic in the caterpillar stage.) So, he divided the greenhouse up into smaller units, each one a different habitat for its inhabitants. One 6ft x 10ft, one 8ft x 10ft, and two 10ft x 10ft.
Overall, it was a complex project with lots of things to take into account. And heaters were top of the list!
How Tim Found Hotbox Heaters
Tim had already purchased his greenhouse from The Greenhouse People and previously dealt with Two Wests & Elliott and LBS. All three companies sold products from Kirklees Developments Ltd, the owners of Hotbox Heaters.
With a hobby that rarely has a problem with an 'off-the-peg' solution, Tim did some digging. As a member of the Entomological Livestock Group (ELG), he was able to ask other members across Europe what equipment they used, as he was going to need both electric fans, with hot and cold settings, and gas greenhouse heaters.
Their advice, combined with his own research, led him to Marcus at Kirklees Developments.
Working with Hotbox's Greenhouse Heaters
"From the minute I started conversing with Marcus by email, and subsequently by telephone, I knew I was onto a winner, as the customer service was second to none and I needed adjustments to the designs being offered, which they were only too happy to make for me for a small adjustment in price. It's so refreshing to find a company that wants to help solve problems rather than just say, 'No, we are unable to help.'"
For this project, Tim required two things:
A primary heat source for each unit, using natural gas.
A backup heat source, using electric.
He purchased both from Marcus here at Kirklees Developments.
Electric Fan Heaters
For the electric, one Hotbox Levant Plus 1.8kW electric fan (for the 6ft x 10ft unit) and three Elite Plus 2.7kW fans (for the remaining three units).


To breed his butterflies and grow the plants they needed, Tim had to provide:
A stable temperature, no lower than 12°C at night and around 20+°C by day.
A humidity level of no lower than 60% in some parts but as high as 85% in others.
So the heating element of the project was vital.
The fan needed to run permanently on cold, to circulate the humid air in order to prevent rotting, and include a heating element that kicks in automatically by thermostat. Also, at Tim's request, we lengthened the mains cable for all four fans (three times the usual 6ft).
Of course, the electric fan heaters were the secondary heat source, mainly due to electric being more expensive than gas. But they were necessary for air movement and circulation within the greenhouse.
Gas Greenhouse Heaters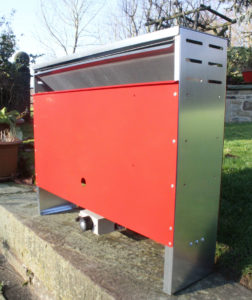 For his gas heaters, Tim purchased four of Hotbox's Shilton 6000 greenhouse heaters.
These heaters are compatible with Propane (LP) bottled gas as well as mains-supplied natural gas. Not wanting to rely too much on bottled gas (for the butterflies' safety in case of an interruption in supply) or deal with the increased cost of it, Tim decided to use the mains gas instead.
For these heaters, there were some adjustments to make for the butterflies' needs, which we were happy to help with.
Normally, the bright red colour of the Shilton heater would have rendered it useless for Tim, as it would attract the adult butterflies in the greenhouse. So, we asked Tim what colour he needed, and we painted them green.
Tim also needed to cover the apertures on his gas heaters, top and bottom, to stop the butterflies from flying into the flame to their deaths. For this, we covered the gaps with fine mesh wire, keeping the butterflies safe without disrupting air flow and visibility.
The Perfect Tropical Habitat
With the right greenhouse heaters and fans, Tim has managed to create the perfect habitat for breeding his tropical species of butterflies.



Tim specialises in breeding a particular type of tropical butterfly known as Longwing Butterflies. Or Heliconius, to use their scientific name.



Heliconius butterflies are particularly long-lived, living for up to 4 months, due to their unique ability to digest pollen (as well as nectar, like other butterflies), which prolongs their life.




Under the Heliconius genus is a large number of species, most of which are indigenous to South and Central America. Each of these species breeds on the vines of a specific species of passionflower (Passiflora) plant, or a small number of passionflower species occurring within the locality of the butterfly's habitat. Some Heliconius butterflies live deep in the Amazon Rainforest, others around the edges or clearings. Some at altitude, others in the lowlands. Vital to Tim's hobby is to recreate these various natural conditions, including the right plants.
And he has managed to do just that. Over three years, Tim's greenhouse project has emerged from its cocoon, and it's beautiful.
"After 3 years of operating the heaters both the electric fans and natural gas heaters have been very reliable, so yes I have been very impressed by the quality of the products and the ongoing customer support that has been available to me at the end of the telephone or by email. Brilliant customer service."